Greenhouse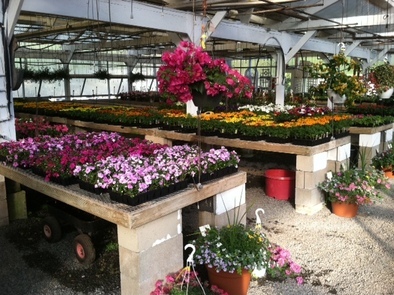 Our Greenhouse offers a beautiful array of seasonal flowers. The houses are overflowing with bedding flowers, herbs and vegetable plants in the spring. We offer the traditional flats of annuals, but growing in popularity are the 4" and 6" pots. These give you great bang for your buck! They are typically a larger plant, and can help you fill those patio planters for that weekend party coming up. Some of the larger vegetable plants can be purchased nearly ready to eat!

Hanging baskets make a great addition to your outdoor space as well. We carry hundreds of baskets ranging from colorful annual flowers, ferns, spider plants and other tropicals.

At Peterson's we have dozens of choices when it comes to pre-made flowering pots for your patio. But if you can't find one with just the right colors, we can do custom plantings as well. Feel free to bring in your own pots and we'll help you find the perfect plants to fill them.

In the fall, color comes alive with lovely Chrysanthemums, Pansies, Cabbage and Kale. December brings with it over a dozen different colors of Poinsettias in many different sizes, from window sill size up to large floor plants.

Tropical houseplants are available year 'round.

---
Nursery and Perennials
Nursery
Trees and shrubs are the backbone of the landscape. They are commonly used as foundation plantings and are excellent at creating a border for your property. At Peterson's, our nursery is filled with beautiful flowering and evergreen trees and shrubs. We carry a variety of sizes from the small, do-it-yourself to mature, instant-gratification size. The majority of our nursery stock comes from local New Jersey and Mid-Atlantic growers, thereby reducing our carbon footprint by saving on shipping distances. This also allows us to quickly re-order and place special orders for that hard to find plant.

Perennials
Perennials make a great addition to your garden. With proper planning you can have beautiful color from spring through fall. The perennials we carry are all tried and true varieties that thrive in New Jersey. Given the seasonal bloom time of perennials, be sure to check in often as we get new shipments weekly. There are perennials that will do well in your garden, whether it's sunny or shady, tall or short, we can help you find the perfect selection to fit your home.