Garden Center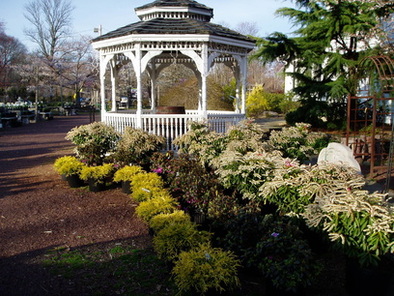 Our Garden Center is fully stocked with everything you could need for your
garden. In addition to plant material we carry potting soils, tools, and gloves.
We have a large selection of fertilizers and pesticides, both traditional and
organic. Our store is fully stocked with beautiful ceramic pottery along with
the standard clay and plastic. As a second generation family business we have many years of knowledge and expertise and are ready to assist you in all your gardening adventures.
Gifts

Looking for a gift? We've got great flowering houseplants that make wonderful gifts. We also are stocked with candles, baskets, and other trinkets. Gift certificates are also available.
For the Birds

Peterson's Nursery proudly carries Lyric brand birdseed. You will also find feeders, houses, and bird baths for your
feathered friends.
Bulk Material

Peterson's Nursery is the place to go for bulk Mulch, Top Soil, and Stone. We offer delivery services or we can load your own truck.
Seasonal
Here at Peterson's we change with the seasons. Spring brings bursts of color with beautiful annual flowers, perennials, trees and shrubs. With the change into Fall we carry perfectly round mums, cabbages, and lovely orange pumpkins. From there its a quick turnaround to stock up with hundreds of premium grade Christmas Trees, wreaths, roping, poinsettias, and cyclamen. We also are the place to go for lights, ornaments and anything else you could need to decorate for the holidays.
Services We Provide
Haven't got a truck? Or a shovel? No problem. We're here to help. Our staff is glad to assist you with delivery and even installation of everything we sell. Whether it's a hedge of Arborvitae or a single rose bush, we will get your
planting off to a great start by using a premium soil mix and topping it off with a finely shredded all natural mulch.
Like to get your hands dirty but can't get the larger items home? Peterson's delivers bulk quantites of Mulch, Topsoil, Compost, and Stone. Give us a call, orders can be taken over the phone. We offer a very fast turnaround, sometimes even the same day!
Need a plant for that one corner of the house but don't know what to get? Bring in a picture! We're glad to help select the perfect plant for that spot. Please take note of the amount of sunlight the area gets as well as moisture levels (stays soggy days after a rain, or dry as the Sahara).
Have a larger project? Click
here
for our Landscape and Hardscape services.
---