Greenhouse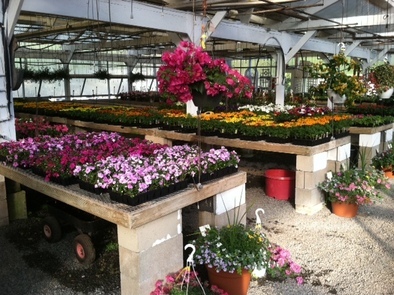 Our Greenhouse offers a beautiful array of seasonal flowers. The houses are overflowing with bedding flowers, herbs and vegetable plants in the spring. We offer the traditional flats of annuals, but growing in popularity are the 4" and 6" pots. These give you great bang for your buck! They are typically a larger plant, and can help you fill those patio planters for that weekend party coming up. Some of the larger vegetable plants can be purchased nearly ready to eat!

Hanging baskets make a great addition to your outdoor space as well. We carry hundreds of baskets ranging from colorful annual flowers, ferns, spider plants and other tropicals.

At Peterson's we have dozens of choices when it comes to pre-made flowering pots for your patio. But if you can't find one with just the right colors, we can do custom plantings as well. Feel free to bring in your own pots and we'll help you find the perfect plants to fill them.

In the fall, color comes alive with lovely Chrysanthemums, Pansies, Cabbage and Kale. December brings with it over a dozen different colors of Poinsettias in many different sizes, from window sill size up to large floor plants.

Tropical houseplants are available year 'round.

---